What is the difference between Champagne and other Sparkling Wines?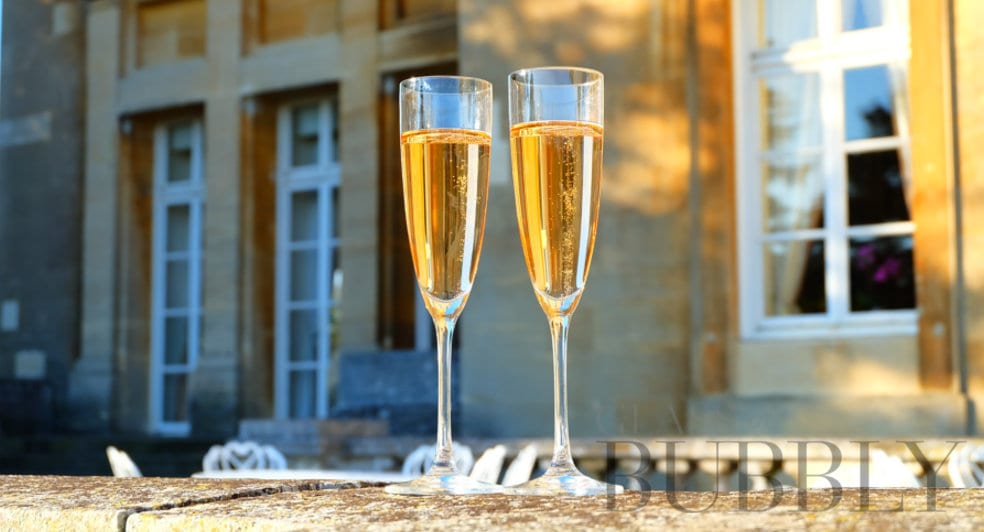 When it comes to bubbles in your wine then the name which stands out most for many would undoubtedly be Champagne. Though world famous and drunk by millions globally every day, Champagne is a very exclusive style of wine that is only produced from a classified region of France totalling just 34,000 or so hectares.
So what about the other sparkling wines outside of Champagne?
The next most famous name we associate with bubbles is Prosecco, the fruity and fun sparkling wine that originates from Italy and similar to Champagne in that it comes only from a classified region of Northern Italy with a total surface area of around 28,000 hectares.
We can also throw into the conversation other famous sparkling wines such as Cava, Franciacorta, English, Sekt, Californian and many, many more.
So what makes Champagne and other sparkling wines so unique?
Mostly it is down to where they are produced and how. Sparkling wines are usually produced in two different ways, one being the traditional method and the other the Charmat Method. Styles of sparkling wines will change from region to region, country to country and continent to continent, variation of flavours and quality are clearly seen as well as price.
Champagne:
Can only be produced within classified regions of France which are Aube, Côte des Blancs, Côte de Sézanne, Montagne de Reims and the Vallée de la Marne*. Grapes are also regulated with seven varieties allowed to be used in production; Chardonnay, Pinot Noir and Pinot Meunier which are the most widely used along with Pinot Blanc, Pinot Gris, Petit Meslier and Arbane.
Production of the wine is via the traditional method (secondary fermentation takes place in the bottle). Minimum maturation on lees is 15 months for non-vintage Champagne and 3 years for vintage Champagne.
Prosecco:
How the popularity of this wine region has grown internationally and especially in the UK where its annual sales figures now tops that of Champagne. Made primarily from the official grape of Prosecco, Glera, these wines are made in a much faster and simpler way compared to Champagne, the Charmant Method means that grapes picked could end up being drunk by way of a glass of Prosecco within months.
It is useful to know that Prosecco comes in different quality levels with the classifications being DOC, DOCG, DOCG Asolo and Cartizze. Note, there is no such thing as rosé Prosecco!
Cava:
From the Catalonia region of Spain (95%), Cava is a world famous sparkling wine made in the traditional method way and with internationally recognised producers such as Codornui and Freixenet. Mostly the grapes of Macabeo, Parellada and Xarello are used to produce Cava, you can get both white and rosé.
Franciacorta:
Another unique region of Italy and making their sparkling wines the traditional method way, Franciacorta comes from the province of Brescia (Lombardy) and holds DOCG (superior) status with vineyards between the hills of Lake Iseo and the city of Brescia. The grapes used are similar to that of the Champagne region with Chardonnay, Pinot Noir and Pinot Blanc.
A relatively younger style of wine having been officially launched and acknowledged back in 1961.
Trento (Trentino) DOC:
Once again the traditional method is used (Method Champenois) for Trento DOC which is located in a very special wine region of Northern Italy amongst the Dolomite Mountains with many vineyards 3,000 feet above sea level. Grapes used are Chardonnay, Pinot Noir, Pinot Blanc and Pinot Meunier. Trento DOC gained its official classification (Trentodoc) which was born in 1993 and trademarked in 2007.
Crémant:
Back over to France and a wine region that is made up of many to enable wine lovers to experience a variety of flavours and aromas. Crémant is another traditional method sparkling wine of France that has appellations spread out across the country with Bordeaux, Burgundy and Alsace along with Die, Jura, Limoux, Loire, Savoie and also an appellation just outside of France in Luxembourg.
Because of the variety of regions and weather conditions, the grapes are also changeable from region to region with the likes of Chardonnay, Chenin Blanc, Mauzac, Pinot Noir, Cabernet Franc, Savagnin and many, many more being used in the production of the wine.
Le Marche:
A little somewhat unknown and yet to be fully discovered wine region producing some amazing sparkling wines is the Le Marche region which can be found on the eastern side of central Italy.
Approximately 24,000 hectares of vineyards and an array of styles from regions including Ancona, Ascoli Piceno, Macerata and Pesaro with grapes used including the Sangiovese, Trebbiano, Verdicchio, and Montepulciano. It is worth noting that this region produces the unique red sparkling wines of Vernaccia di Serrapetrona being the only wine in the world that is created via a three fermentation process.
English Sparkling Wine:
How England has progressed in the quality of wine it produces and more so for the sparkling wines that are now produced across the southern parts of the country and beyond.
Like France, the main style of production is via the traditional method, though recently Charmat Method English Sparkling Wine is also being seen. Grapes used include Chardonnay, Pinot Noir, Pinot Meunier, Pinot Noir Précoce, Pinot Blanc and Pinot Gris.
You can enjoy a glass of English bubbly to include styles of brut, rosé, vintage, extra brut and more.
South African Sparkling Wine:
Sparkling wines from South Africa and also known as Methode Cap Classique (MCC), made from cooler wine growing regions like Constantia and Elgin to the warmer climate regions of Franschhoek and Robertson. Grapes used include Chardonnay, Shiraz, Pinot Noir and Chenin Blanc with the method of production being the Method Champenois.
Australian / New Zealand Sparkling Wines:
Australian sparkling wines have been around for 200 years with serious production levels in play for the last 30 years, you can purchase Australian Prosecco due to the naming of the grape grown in the country (in Europe this grape is known as Glera). Australia uses primarily two grapes being Chardonnay and Pinot Noir and you are able to find some fine red sparkling wines from many great producers.
New Zealand adopts the classical Champagne grape varieties and Méthode Traditionelle techniques for it's sparkling wine production. Wines will mostly come from Marlborough that offers a slightly cooler climate, production is also from the likes of Hawke's Bay and Gisborne.
Canadian Sparkling Wines:
Fairly cooler climate regions to include the Great Lakes in Ontario, the Pacific Ocean and Lake Okanagan in British Columbia and the Atlantic Ocean and Bay of Fundy in Nova Scotia that the grapes are grown in. Canadian sparkling wine will mostly be traditional method, though charmat method sparkling production is increasing.
American Sparkling Wines:
Californian sparkling wines might be the most widely known, though there are wineries across the country to include New York State. Mostly both the méthode champenoise and the Charmat method is used, typical grapes used include Chardonnay, Pinot Noir, Pinot Meunier and Pinot Blanc.
Sekt:
Sparkling wines from Germany are also known as Sekt – Mostly this wine is produced via the Charmat method and the usage of the grapes include Riesling, Pinot Blanc, Pinot Gris and Pinot Noir grapes. It is important to understand the quality of the wine you are purchasing as a Sekt, some wines will be made up from grape juice supplied from other grape growing countries whereas the traditional method production wines will be of more superior quality and grapes from the winery and their growers.
Slovenian Sparkling Wines:
Slovenian sparkling wines are not so famous on the worldwide stage for fizz though this country is producing some of the most amazing flavours. Traditional method is the most commonly seen style with over 50 grape varieties grown. Some great red sparkling wines can be found.
It is a busy wine growing country with 28,000 wineries with around 22,300 hectares of vineyard.
Others:
We can have a list the runs forever so at some point we need to put in 'others' and this does not diminish the importance or quality of the wines from these countries / regions. Austrian, Welsh, Argentinian, Indian, Dutch and many more places provide us with great fizz too
"My best tip to anyone exploring sparkling wines and especially if you are not a wine expert and more so a wine lover, check the label! Most wine labels have to contain certain information from sugar levels to the winery who grew the grapes, not only will you get the basic information you might also learn something new from grape varieties used to the flavours you can expect to enjoy along with suggestions for food pairings. Most wine labels will have the details of the producer to include their website – Go check them out, read up in detail about the wine, who made it and how to get in contact with the winery directly such as via social media where many will hold an account so what better way to engage with the wine you have bought than by sharing a photo and feedback with the winemaker!" Christopher Walkey
* There is one exception in that a loophole in the law allows a select few Californian producers to use the word Champagne on their labels.
Christopher Walkey
Co-founder of Glass of Bubbly. Journalist and author focused on Champagne & Sparkling Wines and pairing them with foods.