Strawberry Fizz with a mix of Mexican Character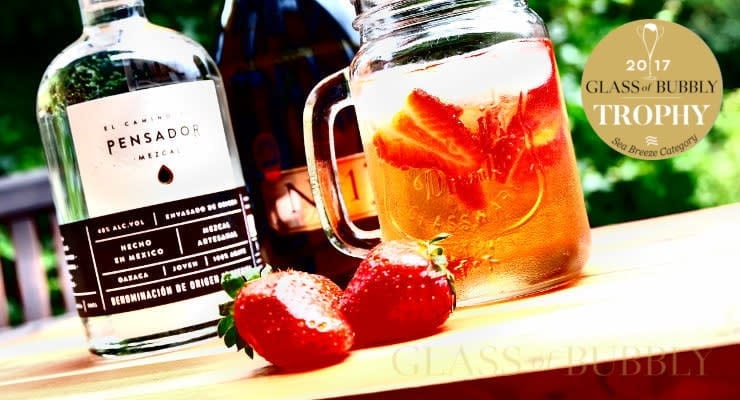 Cocktails do not always have to be complicated to make, require in-depth ingredients and all the snazzy bar paraphernalia in order to produce something you and your guests will enjoy – Sometimes in can be simple and easy!
Just like a wizard with his potion collection, we have ourselves a vast sample selection chez Glass of Bubbly to experiment with and sometimes we can mostly all agree in the office that something I have put together is something they would also look to make when at home – A recent sample sent to us from Pensador Mezcal got us thinking… I called my latest masterpiece the Number 1 Mexican!
Pensador Mezcal – 48% – Southern Oaxaca, Mexico: "When I read up on Pensador Mezcal you really get a feeling that what you have in the bottle is something special, indeed on their website they state 'when drinking Pensador, please, take your time'. The taste is deep and rugged, hints of pepper, spices, burnt oak and what I'd say is dried lemon slices in the distance. It offers a great warm smoky length… I am picturing drinking this whilst sat in a desert location on a warm evening watching the sunset. Most enjoyable, slightly different and you feel you are drinking something that has been made by hand for generations."
So, what can Pensador compliment if we are looking to mix it with some fizz?
I felt that the Pensador needed to shine through a fruity based cocktail, though not overly sweet that the flavours would clash. For me, fresh sliced strawberries would be the base of this cocktail in that it would allow the peppery / smokey flavours of the spirit to shine through. Fizz wise I remember our Trophy winner for Sea Breeze in 2017 in that it offered a sparkling wine that was refreshing yet a touch crisp and almost, as per the title it won, reminding you of walking along a beach with lively waves offering a spray within the air – No.1 Family Estate Rosé.
Number 1 Mexican:
"Here we have a great balance of ripe and crisp strawberry flavours mixed with the Sea Breeze quality of the rosé sparkling wine from No.1 Family Estate and to finish things off the Pensador shines through with peppery and hints of smoky characters."
Christopher Walkey
Co-founder of Glass of Bubbly. Journalist and author focused on Champagne & Sparkling Wines and pairing them with foods.