Infusion pockets for Fizz Cocktails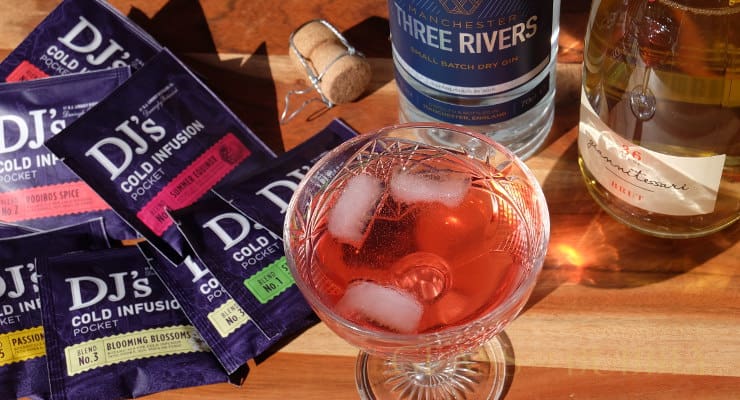 Cocktails are always that bit more interesting when you add fizz, from Champagne to Prosecco, English bubbly to Canadian – Bubbles bring cocktails to life!
There are many famous cocktails that contain fizzy wine such as French 75 containing Champagne and Bellini with Prosecco / Spumante. Outside of the famous recipes there are many more to explore and if you are up for experimenting, then you probably have an endless cocktail menu to taste through.
Should you add ice? Should you add spirits? Fruit juices, fresh fruit slices, spices, herbs… What about some simply yet effective infusions?
I have experimented with many different Champagne / Sparkling Wines in cocktails, and rather like a wizard in a laboratory, I have found many great mixes and so not so good ones! It is all about adding the right flavours in your cocktail so that ultimately you can taste each of the ingredients and each of them balance nicely together be it fresh and fruity or strong and spicy.
DJ's Cold Infusion Pockets are a great addition to your cocktail making library with there tea bag style pockets including a variety of flavours such as orange, spice, floral and passion fruit flavours. Simple to use in that you allow the flavours to brew in to the added spirit (gin / vodka etc) and a touch of the Champagne / Sparkling Wine in the glass – stir the pocket around a few times then take out which will leave you with the desired added flavours then simply top up the fizzy cocktail with more sparkling wine / soda / ice etc.
To test out the infusion pockets I used one of our Gold Medal Winning sparkling wines from 2017 – Giannitessari 36 MESI Lessinu Durello along with Manchester Three Rivers Gin, Chambord.
Christopher Walkey
Co-founder of Glass of Bubbly. Journalist and author focused on Champagne & Sparkling Wines and pairing them with foods.