Christmas Cocktails with Prosecco DOC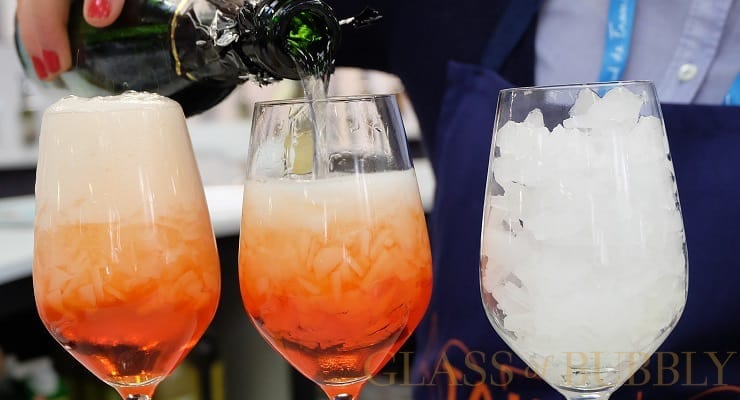 How to make the perfect Prosecco-based cocktail for any festive occasion.
From Snowballs to Mulled Wine, no Christmas party would be complete without a festive cocktail or two. This year, Prosecco DOC has chosen their favourite Christmas cocktails to suit any kind of occasion and every kind of guest. With such a variety of styles and flavours available, the versatility of Prosecco DOC wines will take you through the entire festive period. 'Tis the season to drink Prosecco DOC!
At this time of year, in the lead up to Christmas, the month of December officially transforms into party season. Whether it's a casual family get-together or a glamorous office party, there's a Prosecco cocktail to suit every mood.
The Office Christmas Party
The office party is all about having fun, but not too much fun. You want a cocktail that's delicious and festive, but perhaps a little less boozy than your New Year's Eve tipple of choice. Why not try the Uva D'Oro, made with fresh tomato juice, peach puree, fresh rosemary and basil, perfect with Millage Prosecco DOC Extra Dry or Prosecco DOC Santero Villa Jolanda Extra Dry.
Ingredients (makes 1 serving):
30 ml fresh tomato juice
30 ml Peach Puree
15 ml Hot Spice Syrup
60 ml with Millage Prosecco DOC Extra Dry or Prosecco DOC Santero Villa Jolanda Extra Dry
Method: 
Mix all the ingredients together and pour them into a large wine glass over crushed ice. Garnish with fresh basil and rosemary and serve.
Christmas Morning
There's only one cocktail to be had on Christmas morning, and that's the classic Bellini. Invented in 1948 by Venetian bartender Giuseppe Cipriani, this traditional recipe has stood the test of time with its perfect blend of peach and bubbles. This simple drink is perfect with Prosecco DOC Fantinel One & Only Brut with its elegant floral notes, beautiful balance and crisp acidity. Or, Prosecco DOC Zonin Cuvèe 1821 Brut, which is an appealing, delicate Prosecco with lovely citrus fruit, notes of lemon and lime. And for a more seasonal twist, try swapping your peach puree for blackberry and even add a few tablespoons of crème de cassis to create your own Kir Royale.
Ingredients (1 serving):
100 ml Prosecco DOC Fantinel One & Only Brut or Prosecco DOC Zonin Cuvèe 1821 Brut
50 ml Peach Puree
Method:
Pour both ingredients straight into the glass, stirring gently. Serve.
Now you've got the date set for your festive gathering, it's time to think about whose invited. Every palate is different, but with a whole range of Prosecco-based cocktails, you're bound to find the perfect match for any taste.
For your friends
Your friends are round for Christmas drinks and you want to serve something to get the conversation flowing? Proving that Prosecco is anything but boring, Prosecco DOC's exclusive recipe for Bacon Prosecco is one for the experimental. It may sound unusual, but the salty and smoky overtones to this drink work perfectly with Prosecco DOC Villa Sandi Il Fresco Brut whose ripe green apple, touches of grapefruit and toasty notes compliment the saltiness of the bacon flavour. Or, the ever-popular Prosecco DOC Mionetto Brut Treviso with aromatic notes of acacia blossom, honey and lovely zingy freshness and acidity on the palate creates the same effect.

Ingredients (1 serving):
100 ml Prosecco DOC Villa Sandi Il Fresco Brut or Prosecco DOC Mionetto Brut Treviso
A few drops of smoke essence
Crispy bacon
Method:
Pour a serving of chilled Prosecco DOC into a flute. Then add the drops of smoke essence and mix gently with a barspoon. Crisp up a strip of bacon unsalted in a frying pan and the place on the rim of the glass to finish.
For your crush
The Pam Spritz is the perfect Prosecco cocktail for that person you've got your eye on underneath the mistletoe. A flirty and fun mix of Aperol, white tequila, grapefruit soda and Prosecco, it works best with Prosecco DOC Valdo Bio Brut Organic which is a famous and stylish producer that has hints of grapefruit, pears and green apples with a lively, zingy finish. Alternatively, the Prosecco DOC Sperone Arduini Extra Dry has lovely flavours of lemon, lime and peach, making this a great choice with the popular Aperol in this Pam Spritz cocktail.
Ingredients (1 serving):
60 ml Prosecco DOC Valdo Bio Brut Organic or Prosecco DOC Sperone Arduini Extra Dry
30 ml Grapefruit Soda
44 ml White Tequila
30 ml Aperol
Slice of pink grapefruit
Ice
Method:
Pour all ingredients straight into a wine glass with ice, and garnish with a slice of pink grapefruit.
Prosecco DOC is great within cocktails, but is also a great wine simply served on its own. So, if cocktails prove too much then there is always the award-winning Prosecco DOC Masottina Brut Treviso, which is beautifully crafted, with superb citrus freshness and length of finish and Prosecco DOC V8+ Extra Dry, renowned for its finesse and smooth style.
Glass of Bubbly
Executive editor of news content for the website Please enjoy the articles that we share - We hope you find our love for Champagne & Sparkling Wines both interesting and educational.