Champagne Thiénot by Speedy Graphito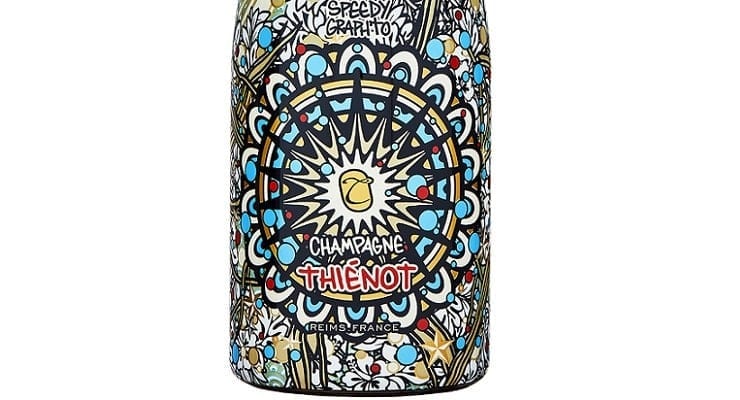 It is impressive to discover in this new work of art a continuity of spirit in 'Thienot by Speedy Graphito' but also a pictorial style with symbolic messages.
This Rencontre # 2 is a tribute to the city of Reims where Speedy drew his inspiration during the preparation of a retrospective exhibition at the Palais du Tau in 2017. Reims is also the cradle of Champagne Thienot, where the family adventure started and continues.
The imaginary colours of the cathedral's stained-glass windows appear as obvious under the hand of the artist in a joyful game of forms and symmetries. The symbolism of Nature, ever-present in the work, comes in the form of
revisited vine leaves, branches that link and connect the drawing with modernity and finesse. And what would end-of-year parties be without bubbles and without stars in our eyes?
Together, Speedy Graphito and Garance make this Limited Edition a sparkling and happy work of art – an enjoyable social encounter sharing art and Champagne!
3,000 magnums of this LIMITED EDITION produced. The recommended price is £75.99
Glass of Bubbly
Executive editor of news content for the website Please enjoy the articles that we share - We hope you find our love for Champagne & Sparkling Wines both interesting and educational.