A Mexican and Champagne delight in Chelsea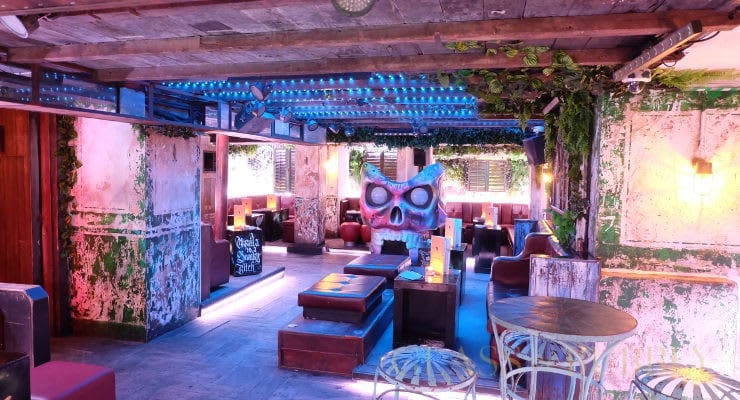 Just a stone's throw from Sloane Square tube station and in the popular location of Sloane Square you will find Mexican bar Tonteria that holds a wealth of Tapa delights along with fine Champagne and cocktails and a very popular nightclub too with regular male and female dancers.
A well known and loved venue and frequented by celebrities and even royalty, Tonteria, though some 5,000 + miles away from Mexico itself, offers its visitors a stunning themed location that instantly gets you in the mood for tapas and cocktails – I was pleased when I received an invitation to review the venue with my good friend Andrea Rinaldi (Head of the UK Sommelier Association).
A trendy and popular spot of wealthy Chelsea in London where successful lifestyles fill the air from dashingly dressed business people and celebrities enjoying the lifestyle, expensive boutiques and real estate to those attention-grabbing luxury motors that pass you by filling the air with a load of exhaust waves… Sloane Square is certainly one of the city's most glamorous locations where the rich and famous like to be seen.
Dining and drinking for sure is one popular past time in Sloane Square and here you will find a perfect option for any Mexican loving taste buds with Tonteria grabbing the limelight and the re-visiting customers looking for that special location where tapas, tequila cocktails and Champagne ooze appeal.
8pm is open time and is when myself and Andrea walked down the steps (first time for us both) as VIP guests of Tonteria. We had the chance to marvel at the interior design and instantly felt the Mexican vibes. The venue offered a warm atmosphere with neatly set out booths and tables for both part privacy yet keeping everyone well and truly mixed in with the evening atmosphere.
The drinks menu focuses on cocktails with fine Champagne options along with a chance to enjoy many well known and loved labels from Pommery per the glass (house Champagne) to really splashing out via the Methuselah options of Dom Pérignon (£18,000) and Louis Roederer Cristal (£27,000).
It really is a tapas delight for any visitor with a great selection from tacos to burritos. All dishes are what myself and Andrea thought ideally contemporary, nothing too spicy yet enough warm flavours to savour great flavours and perfect for pairing with Champagne and of course their detailed cocktails.
A great pairing discovered on the night was the Pommery Brut Champagne along with the Pico de Gallo. The only slight spicy dish allowed the Champagne to work wonders to give out a near cherry bakewell dry flavour in amongst the fresh tomato and tortillas.
"Really good! Innovative Mexican club, great modern food with many hints of traditions. Warmly welcoming and professional service. A great cocktail list and great Champagne, importantly their drinks match the foods their service and even their cocktails seem to pair well with their food." Andrea Rinaldi
"Great decor and totally themed correctly as it gives you instantly the feel you are in a location that is calling out for a Mexican kick of spice and fizz." Christopher Walkey
"A nice Mexican atmosphere in Chelsea!" Andrea Rinaldi
Christopher Walkey
Co-founder of Glass of Bubbly. Journalist and author focused on Champagne & Sparkling Wines and pairing them with foods.