9 Simple Steps To Create The Perfect Sparkling Halloween Pumpkin Punch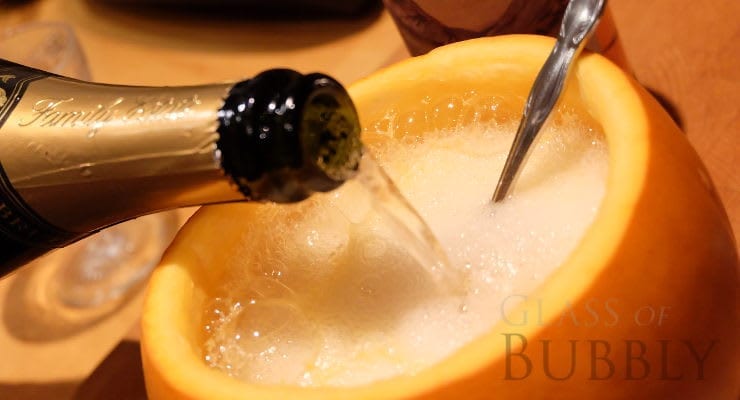 With Halloween getting closer it's about time to start planning that perfect haunted Halloween party with ghosts, ghouls, the undead, candy and pumpkins.
I'm going to show you how to stand out this year by being creative, so grab yourself a pumpkin and let's get started.
I used a smaller pumpkin for this example but it would work just as well with the big ones, it just depends on how much sparkling punch you want and how many undead guests you'll have round.
(1) Take your pumpkin and slice off the top.
(2) You'll want to remove the seeds from inside.
(3) Next, you'll need to carve out the pumpkin.
(4) Now place your pumpkin slices into your blender and then add some mango juice to give it some more flavor and to help it blend.
(5) After it's all blended up, pour it into your pumpkin, it doesn't matter if you still have some chunks of pumpkin left unblended, it adds a cool look and its a bonus when you get one in your glass.
(6) Try it, dip a spoon in and give it a taste. It tastes sweet doesn't it, if you wanted to make one for the kids then you might want to stop here, as next, we'll be adding the alcohol.
(7) Pour in the whiskey or whatever strong spirit you have lying around then stir, if you're stuck for one then how about giving MacDonald's Glencoe 8-Year-Old Blended Malt Scotch Whiskey a try.
Tasting Notes: "A little spice and a big kick."
It has a 58% alcohol volume.
This blended malt whiskey was launched in the late 1960's by Rory MacDonald.
(8) Now it's time for the Sparkling Wine, Here we have No.1 Family Estate from New Zealand, this bottle is the No.1 Assemblé A non-vintage brut.
Tasting Notes: "Biscuits and citrus on the nose, pink grapefruit flavours. The bubbles discreetly disappear on the palate."
(9) You're all done, you might want to try it to see if you want to add more whiskey or sparkling wine and maybe a couple of ice cubes, but if not just set out the glasses and put some sort of ladle or ice cream scooper in the pumpkin and your guests are ready to serve themselves your sparkling punch.
Happy Halloween
Oliver Walkey
Journalist focused on sharing Champagne and Sparkling Wine reviews and cocktails to the world.